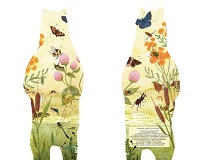 The Wild Place Project has created 20 life size bear sculptures to be placed around BearWood as part of a fun event this spring including such bears like: 'Builder Bear', 'Bristol Bears','Sunset Bear', and an operatic bear humorously named 'Enrico Bearuso'.
The Big Bear Sculpture trail has been organised to celebrate Wild Place Project's newest exhibit, Bear Wood, which opens in the summer. Bear Wood is an exhibit which will house European brown bear, wolverine, lynx and wolves.
The 3D sculptures have been designed by some amazing artists, including our very own Georgia Monical Ball, our Animation MA student.
Georgia's design focused on the Bear Wood's mission statement to highlight "The effects of woodland loss on our native wildlife".
Georgia said about the project:
"As a huge part of our ecosystem I chose to focus on the UK's threatened insects and was inspired visually by vintage entomological illustrations. I have designed a bear featuring 18 insects whose species' are currently under threat in the UK.

As a child I was fascinated by insects so wanted to design a sculpture that could tap into that fascination for other children. I've also hidden some other animals around the bear so there's a lot of visual exploring to do!"
Previously, Wild in Art and the Wild Place project have been responsible for the Gorillas trail with Bristol Zoo Gardens in 2011 to celebrate the Zoo's 175th birthday.
The bears sculptures will be positioned amongst exotic animal houses at Wild Place Project from Saturday 6th April until September. All funds raised during the trail will go towards preserving the woodland habitat for future generations to enjoy.
Find out more on social media: